You won't find people more passionate for camping than Mark ("Speedy") and Bernice Glaser. Uncle Speedy and Aunt Bernice first met at camp in 1970. They were married in 1974 and realized that camping was to be their lives. In some camps, the owners distance themselves from the day-to-day operation, but not so at Camp Nock-A-Mixon. They are always out and around camp, involved in many activities. You can find Aunt Bernice teaching Zumba classes, helping out with crafts projects and, of course, tucking the girls in every night. Uncle Speedy is regularly refereeing basketball games, teaching clinics and running our evening programs. Campers appreciate their total dedication, and as a result, feel comfortable and safe.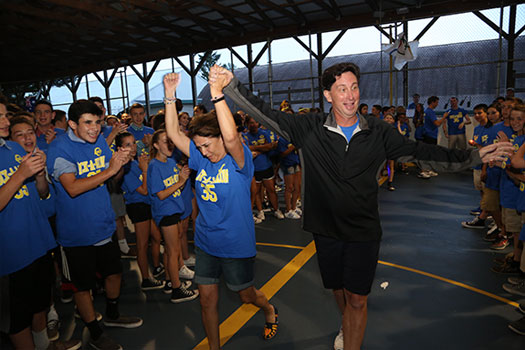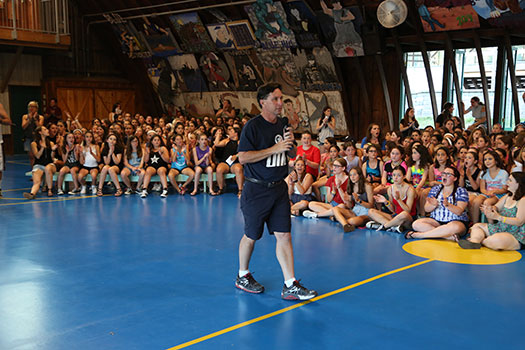 Uncle Speedy is a true camp lifer, having spent more than 60 years at Camp Nock-A-Mixon! Born and raised in Hewlett, New York, Speedy first came to Nock-A-Mixon in 1957 at just 5 years old! He later progressed to counselor, Athletic Director, Division Leader, Head Counselor, and Assistant Director. He started his professional career as a Philadelphia public school teacher before going to work full time for the previous owner of Nock-A-Mixon in 1978. In 1981, he and Aunt Bernice purchased the camp and have been the owners and directors ever since. Uncle Speedy is a dedicated sports fan with an immense appreciation for the arts, as an avid theater goer. As a result he is able to connect with campers of all interests. Speedy spends his winters in West Palm Beach, Florida playing golf, rooting for his beloved Ohio State Buckeyes and cooking up brand new ideas for the summer!
Aunt Bernice, a Philadelphia native, first came to Camp Nock-A-Mixon as a counselor in 1970. She was promoted to Girls Head Counselor in 1973 and held that position until she and Uncle Speedy became the owners of camp in 1981. Bernice also spent 22 years as a teacher, and overall has more than 45 years of experience working with children. In the summertime, Aunt Bernice never stops moving. She runs the camp office, teaches Aerobics classes, takes pictures and always has the best costumes for Junior Girls Halloween night! Of course what the girls love most is each night when Aunt Bernice visits their cabins to make sure she says goodnight to each and every girl. In the winter, Aunt Bernice heads down to Florida with Uncle Speedy where she is a passionate tennis player, hitting the court for weekly matches. She also enjoys Mahjong and knitting the most comfortable sweaters!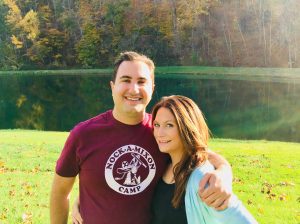 Gary Glaser – Director
Staci Glaser – Medical Center Manager / Nurse
With camping in his blood, Gary Glaser, Speedy and Bernice's oldest son, always knew he wanted to spend his life in his summer home of Camp Nock-A-Mixon! After graduating from George Washington University in 2006, where he studied developmental psychology and business, he immediately went to work for camp full time. Since his days as a camper and counselor Gary has served in many Head Staff roles over the years. He has been the Dining Hall manager, a Junior Boys supervisor, Head of Boys Camp, and now a Director. A life-long swimmer, Gary looks forward to teaching swim lessons each summer and is also heavily involved in our tennis and lacrosse program. He also often brings out his guitar to jam with campers and perform during some evening activities. Gary's caring personality, patience and love of teaching make him a valued asset to our campers and staff. During the off season he helps to manage all aspects of camp, concentrating on staff and camper relations, purchasing, and our annual facility additions and renovations.
Gary's wife, Staci Glaser, grew up in Huntingdon Valley, PA and comes to Nock-A-Mixon with 12 years of camping experience, including 3 summers teaching cheerleading and dance. Graduating with a Biology degree from Penn State, she spent 7 years as a pharmaceutical sales representative before going back to school to get her nursing degree. In the summers, Staci is now a camp nurse and our Health Center manager. She is also a certified Barre instructor and loves getting the chance to teach a class with the girls! Staci's sense of humor and meticulous work ethic make her a great addition to the camp team.
Gary and Staci live in Blue Bell, PA with their son Aidan. They are so excited to share the camp experience they both love so much with him.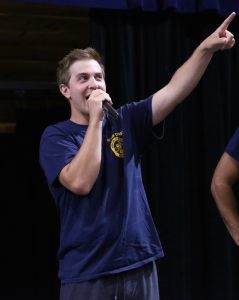 Jay Glaser – Athletic Director / Supervisor
Speedy and Bernice's youngest son, Jay Glaser, graduated from the University of Rhode Island in 2008 with a degree in Communications and Journalism, and spent 3 years working in sports radio. However, the call of camp became too strong and Jay decided to join the family business full time in 2011! During the camp season Jay serves as our Athletic Director, Senior Boys supervisor and the head of our Varsity Basketball program. In the winter Jay focuses on staffing, athletics, programming and special events. He also coaches high school baseball and basketball, as well as a travel baseball team in Lower Merion, PA. Jay is an enthusiastic coach who aspires to be a strong role model for his players, a passion he brings to camp each summer for the campers. As you may be able to guess, Jay spends his free time playing in men's basketball and ice hockey leagues and hoping one day the New York Mets will finally pull it together!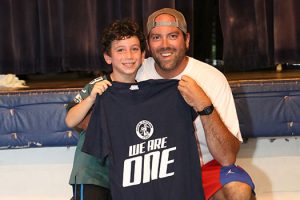 Josh Flanagan – Boys Head Counselor
Josh Flanagan has quite a long history with Nock-A-Mixon. He first came to camp in 1990 as a youngest junior boy, when his mother, Judy, was hired as the Girls Head Counselor! Since his days as a camper, Josh spent four summers as a counselor before becoming a Supervisor in both the Middle and Senior boy divisions. Today, as the Boys Head Counselor, Josh enjoys running around with the campers, making them laugh and creating memories that will last a lifetime. Josh has a charismatic and infectious personality that makes both campers and staff feel comfortable and connected to him. In his free time, Josh is a die-hard Philadelphia sports fan and enjoys spending time with his family and friends.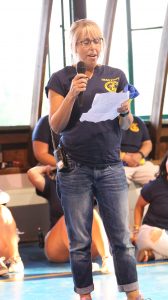 Abby Lieberman – Girls Head Counselor
Abby Lieberman grew up going to summer camp and loved every minute of it! She began her Nock-A-Mixon career in 2008 as the Junior Girls Supervisor and in 2015 was promoted to Girls Head Counselor. In addition to her many years of camp experience, she also spent more than 20 years working as a teacher in various areas of education including Preschool, Elementary Education and Special Education. Now retired from teaching, she joined our year round staff in 2017! The girls love her warm nature and always feel taken care of when they are with her. Abby earned a BA in Marketing from George Washington University and a Masters in Elementary Education from West Chester University. She lives in Fort Washington, PA with her husband Michael and has two sons, Sam and Jeremy, who also spent their summers at Nock-A-Mixon as both campers and counselors.